A "robot dog" has been added to New York's crime-fighting armory, along with other high-tech gadgets.
"Digidog is finished," Mayor Eric Adams said as he joined police chiefs in Times Square to unveil the devices.
He said he was pushing ahead despite what critics called creepy when the city first tried it two years ago.
"Some loud people were against it, and we took a step back," the mayor said.
"That's not how I operate. My operation is looking for what's best for the city."
The 32kg remote-controlled robot dog will be used in dangerous situations, such as hostage standoffs.
"If you have a suspect that's locked down, if you have a person in a building that's armed, instead of sending the police there, you send Digidog in there," the mayor said.
A cone-headed autonomous security robot with multiple cameras and sensors will also be deployed — first overnight inside the Times Square station — for a seven-month trial starting in the summer.
It will be accompanied by a human assistant as it coasts leisurely at 3 mph.
It's already being used on some college campuses and shopping malls to deter crime.
Read more tech news:
Is there alien life on Jupiter's moons?
Musk says his dog is now Twitter's CEO
FBI says stop using public charging points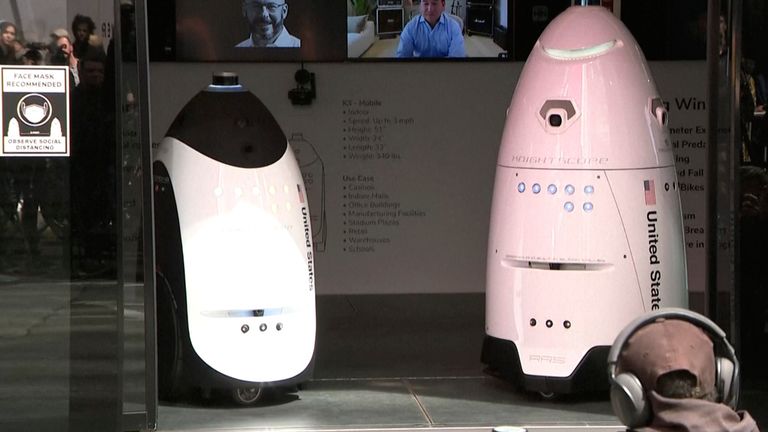 third new device New York Cops will try the StarChase GPS attachment system, which fires tracking devices on suction cups at stolen cars to avoid police pursuits.
It can be mounted on a police car or fired from a handheld device. Officers will initially be on probation for 90 days.
Some have criticized police for spending money on technology, saying the money would be better spent on essential services.
Albert Fox-Kahn, executive director of the Surveillance Technology Oversight Project, also questioned the need for the toolkit.
"The NYPD is turning bad science fiction into terrible policing. New York deserves real security, not RoboCop," he said.