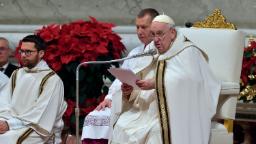 Rome
CNN
—

Pope Francis asked people to "do something good" during his Christmas Eve Mass in St. Petersburg this Christmas. St. Peter's Basilica in the Vatican on Saturday.
"God doesn't want appearances, but concreteness," said the pope.
"May we not let this Christmas pass without doing good."
Earlier this month, Francis asked people to spend less on Christmas gifts and instead donate to the people of Ukraine.
The Vatican set up a donation page and connected with an Italian crowdfunding site to provide warm clothing for the Ukrainian winter.
Italian crowdfunding site www.eppela.com has received more than €188,000 ($200,000) in funding. The Vatican said it would collect donations in early January.
Francis, who has been in his seat due to knee problems, also spoke about children "swallowed by war, poverty and injustice," victims of "a world greedy for money, power and pleasure," he said.
The Pope is encouraging people to draw closer to God no matter what their life situation is.
"God was born in a manger so that you can be born again where you thought you hit rock bottom," he said.