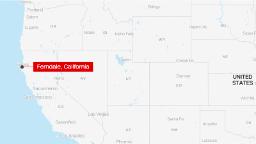 CNN
—

A 6.4-magnitude earthquake shook Northern California's Eureka region early Tuesday, leaving thousands without power, according to the U.S. Geological Survey.
The quake struck at 2:34 a.m. PT and was centered on the Pacific coast about 7.5 miles from the coastal Humboldt County city of Ferndale, the investigators said. That's about a 20-mile drive southwest of Eureka and a 280-mile drive northwest of Sacramento.
Most homes and businesses in Humboldt County were without power early Tuesday. About 60,000 outages occurred among the 99,000 customers tracked by the county, according to utility tracker PowerOutage.us.
Caroline Titus filmed footage of the earthquake spilling objects on the floor of her home in the Ferndale area post to twittershow. "This is a big deal. Now the power is out. The house is a mess," Titus wrote.
The region has since been hit by more than a dozen smaller quakes – with magnitudes as high as 4.6 – the survey reported.
NOAA said there is currently no tsunami threat related to the quake.
This is a developing story and will be updated.