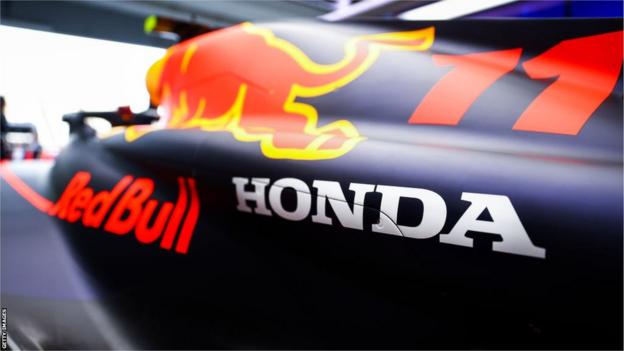 Honda will officially return to Formula 1 in 2026 as Aston Martin's engine partner.
The company officially quit F1 at the end of 2021, but its engines are still used by the two Red Bull teams and will be called Honda again in 2023.
Honda said on Wednesday that F1's pursuit of carbon neutrality by 2030 was a "key factor" in its decision to officially return to racing.
New rules for 2026 will improve the electrical performance of F1 engines.
The sport's governing body, the FIA, has also mandated the use of fully sustainable synthetic fuels.
Koji Watanabe, president of Honda Motorsport, said: "In order to achieve the goal of becoming carbon neutral by 2030, from the 2026 season, the FIA ​​will mandate the use of 100% carbon neutral fuel and will increase the deployment of electric power significantly more than the current regulations three times.
"With the massive increase in electric power, the key to winning in F1 will be compact, lightweight and high-power electric motors, as well as high-performance batteries that can quickly handle high power output, as well as energy management technology.
"We believe that the expertise gained from this new challenge has the potential to be directly applicable to future volume-produced electric vehicles."
What's behind Honda's change of approach?
F1 has used hybrid engines since 2014, but the new rules will make major changes to its layout.
The biggest is the elimination of part of the hybrid system's MGU-H that recovers energy from the turbine, and the substantial increase in the proportion of hybrid power in the engine's power output.
"Currently, electricity is 20 percent or less compared to internal combustion engines," Watanabe said.
"But the new regulations call for electrification of about 50% or more, which is a further step toward electrification, and I believe electrification technology will be useful for us to produce cars in the future."
Using carbon-neutral fuel and integrating it into the engine is also "in line with Honda's direction," he said.
Extending F1's cost cap to cover engines was also a factor in the decision, Watanabe said, as it made "long-term and sustained participation in F1 much easier".
Why not keep using Red Bull?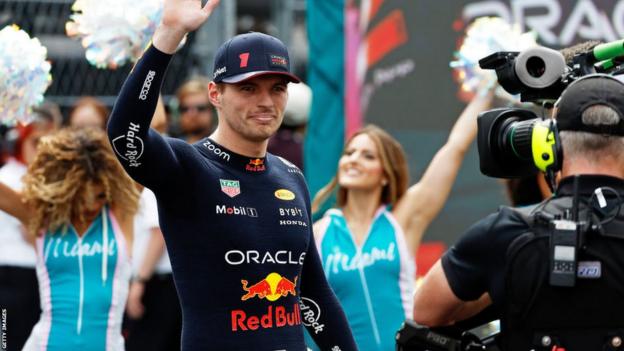 Honda has won the last two drivers' titles with Red Bull and Max Verstappen, adding the constructors' title last season. The pair are expected to repeat their double in 2023. Red Bull dominated the start of the season, winning all five races so far.
Red Bull has decided to build its own engine for 2026 and has entered into a partnership with American giant Ford to invest in and label the power unit.
Aston Martin, which finished seventh in the championship last year, has taken a big step forward in terms of competitiveness in 2023, finishing second in the constructors' championship behind Red Bull ahead of this weekend's Monaco Grand Prix.
Their driver, Fernando Alonso, is third in the drivers' standings behind Verstappen and team-mate Sergio Perez.
aston martin's progress The plan follows a major investment and restructuring program over the past five years that includes building a new factory, which is due to open by the end of this month. A new wind tunnel is also under construction and is expected to be completed by the end of 2024.
Watanabe said the Honda and Aston Martin F1 teams "shared the same spirit".
Martin Whitmarsh, CEO of Aston Martin Performance Technology Group, said: "Aston Martin is building a team that can win in F1. We've been recruiting the right people and investing in the skills needed. facilities, and develop the right culture and processes to win.
"Partnering with a global motorsports powerhouse such as Honda is an extremely exciting and important further development for the team. Both organizations share the same relentless ambition to succeed on the track. We are thrilled to have this partnership Very proud, honored and grateful."
Whitmarsh, who helped Honda return to F1 in 2015 when he was chief executive and team principal at McLaren, added: "2026 will require the full integration of chassis and power unit that only a full working team can provide".
He added: "It's clear from what we've seen from Honda and what we've learned recently, they have a huge passion, they want to win, that's what they want to do, that's what we're aiming for. We Already confident this will be a great partnership going forward."
The partnership will mean the end of Aston Martin's arrangement with Mercedes, from which the team buys most of the rear of their cars, including engines, gearboxes and suspensions.
Whitmarsh admits that taking on the manufacture of the gearbox and suspension was "a huge challenge, but an essential one for us".
Watanabe said Honda "currently" has no plans to supply any other teams.
Where is the driver?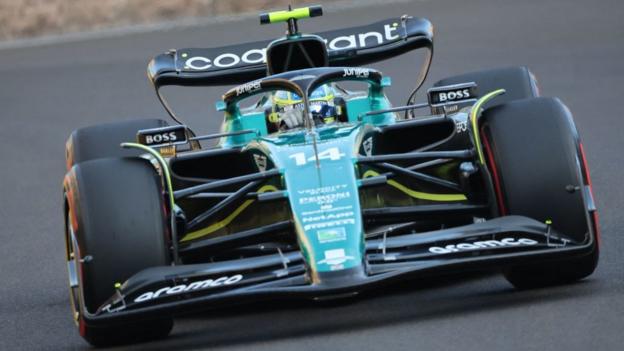 Alonso joined McLaren in 2015 as part of the Honda project, but after three years of uncompetitiveness the team and engine company parted ways. At the time, Alonso's relationship with Honda had broken down, in part because of some public criticism of the engine by the two-time champion.
But Watanabe said the choice of driver "is entirely up to the team" and that Honda "has no objection" to working with Alonso again.
Alonso is in the first season of a two-year deal with Aston Martin. He turns 42 in July and will be 44 at the start of Honda's partnership with the team.
Whitmarsh said: "Honda has been a very good partner for us. Fernando sees that. At the moment 2026 is probably not in his plans. We have to give him a car that will win races consistently.
"We've taken a reasonable step forward. We're not where we need to be, but we'll be stronger. I'm sure we'll be talking about what the future holds for Fernando before 2026.
"I hope he's here for many years, and it would be great if he was as fit and competitive as he is today. Then it would be great to have him in the car in 2026."