A food blogger who inspired the 2009 film Julie and Julia has died at the age of 49.
Julie Powell caused an online sensation when she set herself a challenge to make every recipe in Julia Child's book Mastering the Art of French Cooking.
Her challenges led to book deals and blockbusters starring Amy Adams and Meryl Streep.
Powell died of cardiac arrest at her home in upstate New York — and friends called her "a brilliant writer and a bold, original person."
"Our deepest condolences go out to all who knew and loved Julie, both personally and through the deep connection she forged with readers of her memoir," said her editor Judy Klein.
After writing her 2005 memoir Julie & Julia: 365 Days, 524 Recipes, 1 Tiny Apartment Kitchen, Powell appeared on Food Network's Iron Chef America and The Martha Stewart Show.
She went on to write for The New York Times, Bon Appetit, and Food & Wine, and was a two-time James Beard Award recipient.
Powell also received a Le Cordon Bleu honours degree in Paris, the school Julia Child attended in 1950.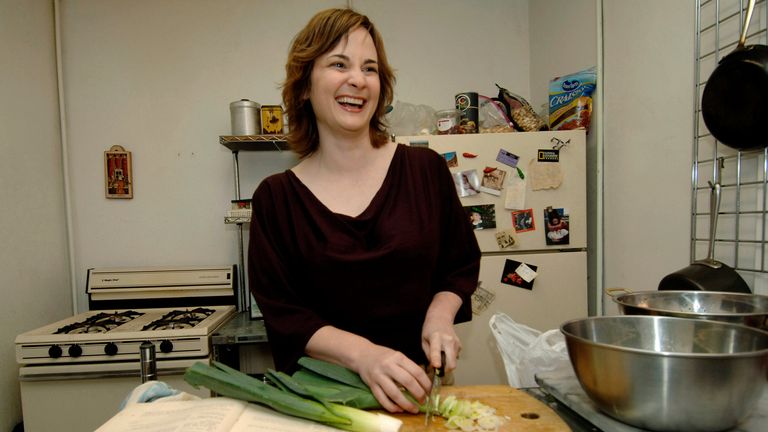 In 2009, Powell published her second book, "Divided: A Story of Marriage, Meat Eating, and Obsession," in which she revealed she was having an affair.
It also delves into her pain of loving two men at the same time, her fondness for sadomasochism, and even having a self-punishing sex act with a stranger.
read more:
Migos rapper shot dead at party
Tim Roth's musician son dies of cancer at 25
The latest episode of the Backstage Podcast
She started her romance in 2004 while she was putting the finishing touches on her first book.
By 2006, Powell was working as an apprentice in a butcher's shop, and she explains in the book that the experience of cutting meat actually caused her to eat less.
As such, she became an advocate for the humane raising and slaughter of animals for human consumption.
Powell's husband, Eric, survived.