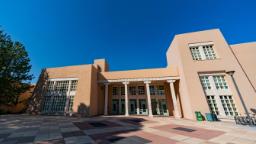 CNN
—

The two people who were shot and killed during an altercation on the University of New Mexico campus early Saturday were students at a rival school, officials said.
A 19-year-old man was killed and a 21-year-old was hospitalized following a shooting on the University of New Mexico's main campus in Albuquerque, the New Mexico State Police (NMSP) said in a release.
The 19-year-old man is a student at UNM and the 21-year-old is a student at New Mexico State University in Las Cruces, New Mexico State Police spokesman Ray Wilson said Saturday night.
The shooting happened hours before a scheduled boys' basketball game between rival UNM interstate schools. The game was postponed after the shooting.
"Our thoughts are with all those affected by this tragedy," UNM's basketball team tweets.
Neither victim has been identified, and state police have not provided information on the condition of the survivors.
"This investigation is at a very preliminary stage as investigators and crime scene agents work to process evidence and identify witnesses to understand what led to the shooting," the NMSP said Saturday.
"NMSP does not believe this incident poses an ongoing threat to the community."
As part of the investigation, the NMSU bus was pulled over by state police at a rest stop on Interstate 25 between Albuquerque and Las Cruces, Wilson said. No one was detained and the bus was later released.
As of Saturday night, no charges had been filed in the case.