We ended our chapter on Ian over the weekend, but the spirit of the storm—that is, its tenacity—is still alive in our South as a slow-moving system. Echoing the high pressure to our north, the storm will maintain winds along the coast. In Cape Town and the Islands, some wind gusts may still be near 40 mph, while in Boston, gusts on both sides may still be close to 30 mph. We'll be avoiding showers for most of Monday and Tuesday morning, but we'll inevitably be delayed due to the wet weather.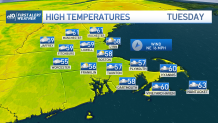 Rainfall (yes, we're still reducing drought) is still on the light side for most people, but some random downpours in southeastern Massachusetts could push us to over an inch of water when the storm dissipates Wednesday night . Elsewhere, plan on a quarter to half an inch.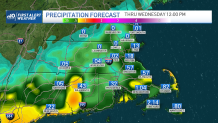 Not only have temperatures been below normal for the past three days, but Boston has also missed the 60s (normal is 67). We'll see three days in the sub-60s before warmth returns on Thursday and Friday. Then soar into the 70s in full sun. Another cold front will swing on Friday night, bringing us back to the October chill for the weekend.
Enjoy this week!