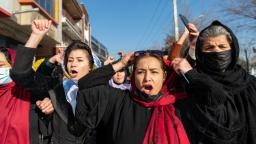 CNN
—

A group of women took to the streets of the Afghan city of Herat on Saturday to protest the Taliban's order this week to suspend all female students from attending university in the country.
Video clips circulating on social media showed Taliban officials using water cannons to disperse female protesters.
The girls could be seen running from the water cannon and shouting "cowards" at officials.
The Taliban this week announced a moratorium on female students' university education, the latest in its ongoing crackdown on women's freedoms in Afghanistan.
The move comes despite the group's pledge to respect women's rights when it returned to power last year.
It follows a similar move in March to bar girls from returning to secondary school.
Male students at universities across the country have responded to the latest education ban by boycotting exams in protest.
"Education is the responsibility of men and women," read a statement from the Wesnica Institute of Higher Education in Kandahamil on Saturday. "This is the fundamental right and secret of the country's development and self-improvement."
The students first asked Taliban officials to withdraw the ban but "did not receive a positive response" – the school said – adding that "discontent and unhappiness" fueled the resistance.
A university official told CNN that the student's decision to boycott the entrance exam will result in the suspension of classes.
The Taliban, which ruled the country from 1996 to 2001 when a U.S.-led invasion forced its ouster, returned to power in August 2021 in a lightning takeover following the withdrawal of U.S. troops.
During its previous reign, the group was notorious for treating women as second-class citizens.
After seizing power last year, the group has repeatedly pledged to protect the rights of women and girls.
But activists say the Taliban have reneged on their promises and are again gradually stripping women of their freedom.
On Saturday, the group ordered all local and international non-governmental organizations (NGOs) in the country to ban female staff from going to work. An official notice from the government ministry said failure to comply would result in the revocation of the license of the NGO.
A spokesman told CNN the move was due to non-compliance with Islamic dress codes and other laws and regulations of the Islamic emirate.
Afghan women can no longer work in most sectors.
Their right to travel is also severely restricted and their access to public places is greatly reduced. Women will also have to fully cover themselves — including their faces — in public.