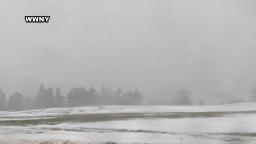 New York State Gov. Kathy Hochul said she deployed the National Guard to Erie County overnight to assist with a medical emergency amid dangerous winter conditions in Buffalo and the region.
"The conditions here, blinding snow, zero visibility, absolute snow, could go down as one of the worst in history," Hochul said at a news conference, noting Buffalo is her hometown. "People are comparing this to the horrific snowstorm of '77, when Buffalo first became famous for its unprecedented snowfall."
"What happened while we were speaking in Buffalo was life-threatening," Hochul added.
Erie County officials said at least two people died in separate incidents Friday night when emergency medical personnel were unable to get home in time to treat the emergency.
"Two lives were lost in Buffalo — storm related — because people couldn't get medical help, and again it was a crisis situation that unfolded before your eyes and you realized that lifesaving ambulances and emergency medical personnel couldn't get through the storm during the storm. Reaching people. Snowstorm conditions," Hochul.
Emergency crews have been trying to rescue motorists stranded on the highway, but they too are "all stuck in the snow," Hochul said.
"In fact, almost every fire truck in Buffalo is stuck. It's stuck in the snow, and we just passed through to release about 14 or so ambulances that were stuck," she said. "So you can imagine what's going on here. People who need help are stuck inside because they can't get emergency response because it's not safe to be outside."
The Buffalo airport will remain closed until at least 11 a.m. local time Monday, Hochul said. The airport was first announced to be closed due to "adverse weather conditions" on Friday afternoon.
Search and rescue operations will continue throughout the region, Hochul said.
About 73,000 homes across the state remained without power, including 33,000 in Erie County, the governor said. "This appears to be the epicenter of this storm that doesn't seem to be moving forward," Hochul said.
The governor said the state will keep heating centers open and people are encouraged to stay at home.
CNN's Celina Tebor reported on this article.