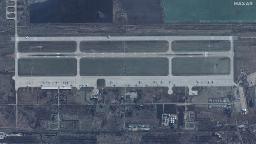 CNN
—

Three Russian servicemen were killed on Monday when a Ukrainian drone was shot down by an air defense system as it approached a military airfield in the Saratov region deep in Russian territory, Russian state news agencies cited the Ministry of Defense as saying.
The incident happened in the western port city of Engels, about 500 miles (more than 800 kilometers) southeast of Moscow, on the Volga River. It was the second such attack this month on the city, which houses the Engels-2 military airfield, an air base for strategic bombers.
Saratov region governor Roman Busargin said on Monday that law enforcement agencies were currently investigating the incident at the airport. The comments, posted on his official Telegram channel, came after reports circulated of an explosion in the city.
There was "no emergency in residential areas of the city" and no damage to civilian infrastructure, he added. He also expressed his condolences to military families and said the government would help them.
CNN was unable to independently verify the Russian report that the drone was deliberately shot down and missed its intended target.
In comments Monday, Ukrainian Air Force spokesman Yurii Ihnat did not claim direct responsibility for the drone, but did say the attack was "the result of something Russia is doing."
"If the Russians thought this war wasn't going to affect anyone in the (Russian) rear or anywhere else, they were dead wrong. So, as we've seen, things like this are happening more and more often happens, we hope it will only benefit Ukraine," Inat said.
Also on Monday, a spokesman for Ukraine's southern security and defense forces warned of possible Russian retaliatory strikes, citing a similar incident in the same region earlier this month.
"It reminds me of the events of December 5th, so there might be some deja vu, some repetition of the situation, and then [the Russians] There was a massive missile strike," the spokesman said. So we should be prepared for that, factor it into our planning and don't forget to go to the shelters."
Earlier this month, CCTV footage appeared to show explosions in English lighting up the sky. At the time, Governor. Busargin also assured residents that no civilian infrastructure had been damaged and that "law enforcement agencies are checking information on incidents at military installations."
He acknowledged that information about "an early morning bang and English crackling" was spreading on social networks and in the media.
The Engels-2 airport is nearly 6 kilometers from where the CCTV footage was shot in early December.